Course details
2 hours drink all you can afford ¥ 5,300 course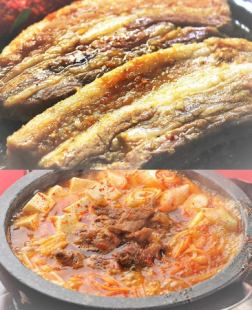 Samgyeopsal and the most popular beef sliced ​​red pod can also be eaten, a great satisfying course of the bad road royal road!
Course menu
● 3 kinds of Kimchi
● Sanche prime
● Topgi
● Mochi pig Samgyeopsal
● Beef tears red pots
● Seafood trash
● Chapche
● Wakame soup
● Stone-cooked bibimbap
● Dessert
※ The contents may be changed depending on the season · reservation situation.
★ Early booking benefits available! For further information please contact the staff.
★ It is also possible to prepare according to the amount of money you wish, such as 7000 yen per person. ※ Reservation required
2018/10/02 update